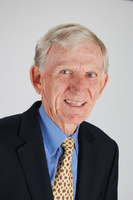 David Hutchinson REALTOR ® Emeritus
Vice President
David Hutchinson has been working in the local real estate market for 46 years. He is a lifelong resident of the Greater Taunton area and his knowledge of both residential and commercial real estate has made him a respected member of the community for several decades.
David began his career in real estate in 1965 and in 1966 became a partner in Briggs and Hutchinson Real Estate. A few years later, he chose to branch out on his own to start The Hutchinson Company which grew to 8 regional offices in Bristol and Plymouth counties. In 1983, he joined Coldwell Banker as a franchise owner, renaming the firm Coldwell Banker Hutchinson Group. In 1999, Hutchinson sold his firm to Coldwell Banker Corporate and chose to stay on as Manager of the Taunton office until 2009.
In January of 2010 David became a partner in the Ballow & Hutchinson Realty Group, Inc. with a focus on both residential and commercial real estate.
The knowledge that David has gained over the years at both large corporate and independent firms allows him to provide his clients with all of the resources they need with the hands-on approach of a local firm. As the founder and owner of 2 prior independent real estate firms, David looks forward to providing the community with first-class service with a local feel.
David is currently a member of the following REALTOR® organizations:
·
Bristol Association of REALTORS®
·
Massachusetts Association of REALTORS®
·
National Association of REALTORS®
·
REALTORS® Commercial Alliance of Mass
David currently serves as:
·
A Director of The REALTORS® Commercial Alliance of Mass
·
A member of the Tax Increment Financing Board of Raynham
·
A member of the Raynham Economic & Business Development Committee
·
A member of Pro-Home Inc's capital campaign committee
·
Member of the Taunton Rotary Club
·
Past Corporator of Bristol County Savings Bank
·
Past Corporator of Morton Hospital and Medical Center
·
Past President of the Taunton YMCA
·
Past Director and Treasurer of the Taunton United Way
·
Past Board member of the Taunton Area Chamber of Commerce
·
Past Board member of the Taunton American Red Cross