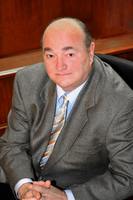 Robert B Sullivan REALTOR®
Senior Vice President Commercial Division
Robert Sullivan moved to the Taunton area (Berkley) in 1980 where he raised his family and continues to live there today. He has been licensed to sell real estate since 1984. During the 1980's he worked for Coldwell Banker before starting a career as a Financial Consultant for Merrill Lynch in Wellesley, MA. His career there included a position with the Royal Bank of Canada who had acquired the investment firm of Tucker Anthony, a Boston based company that was over 100 years old. Robert always had a passion for Real Estate as he continued to teach the Massachusetts Licensing course for both salespeople and brokers. As a Certified Instructor by the Commonwealth of Massachusetts he also taught the Continuing Education requirement for Real Estate licensees since 1999.
When Robert decided to return to the Real Estate profession he contacted his mentor and friend David Hutchinson. Robert remembers that when he worked for David he was always taught that "hard work and strong ethics" were keys to a successful career in real estate and this is something that he has not forgotten. To Robert, the opportunity to work with David in Real Estate again is a pleasure that he is fortunate was available.
Robert is also a Licensed Construction Supervisor with an unrestricted status issued by the Commonwealth of Massachusetts. He has performed countless appraisals in the past, including eminent domain valuations for the courts as well as working with area attorneys for estate valuations, domestic concerns and partition sales. He is available for Brokers Opinion of Values if needed and can assure you prompt and professional service.
Putting the best interests of the people he works with first has been the avenue to Robert's success in business. He has specialized in both Commercial and Residential properties since his Real Estate career began in 1984. He looks forward to working with clients, both old and new, with all of their Real Estate needs.
Robert has worked with the Shriners Hospital Organization, the Salvation Army, the Boston Food Bank, local Libraries, as well as being a strong advocate for Pets. He currently owns three dogs that he considers his soul mates.